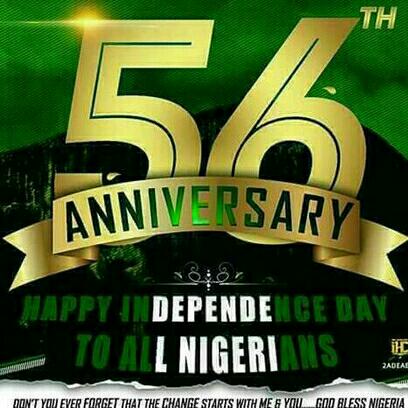 A prominent member of the Peoples Democratic Party, PDP has described 'October 1st' under President Muhammadu Buhari's led government as the worst ever in the history of independence day celebrations in the country.
Adeyanju's statement reads: The is typically a day of celebration for Nigeria and Nigerians. It signifies the day Nigeria achieved independence from colonial rule and began the journey towards nationhood.

In the past, October 1st was a day celebrated with pomp and pageantry as Nigerians savoured the taste of liberty. In the past, October 1st was a day Nigerians put aside whatever challenges faced us as a nation and, together, shared the very essence of being Nigerian.
However,October 1st 2016isnot a day of celebration. It is not a day of pomp nor is it a day to bask in the euphoria of a fulfilled nation. It is a day to spend in deep reflection about the worrying socio-political and economic state of our nation.

At the inception of the President Muhammadu Buhari administration on May 29th, 2016 many expected that he would move quickly to heal a nation sharply divided by the election season, and take urgent steps to maintain the Nigerian economy on a path of economic growth.
Indeed, the statement in his inaugural speech about belonging to everybody and belonging to nobody gave credence to this hope.

Alas, President Buhari has furthered those divides by his words and conduct. It is common knowledge that Nigeria is at its most fractured state, along ethnic and religious lines, perhaps since the Civil War. president Buhari has by his words, actions and inactions constantly stoked the fires of sectarian tensions creating an atmosphere of distrust and strife.
_This administration has failed Nigerians on so many other fronts in 2016 such that millions of Nigerians simply do not feel Independence Day is worth celebrating.
For instance, its human rights record is appalling. Despite an international outcry, the government has failed to prosecute a single person for the mass murder of over 1,000 Shiite Muslims by the military in December 2015.

Their leader has been detained since December 2015 along with his wife without charge despite both of them suffering severe injuries during the attack.
__The military has gone on to summarily execute 100s of members of IPOB without recourse to the rule of law. Opponents of the ruling party, including journalists and online bloggers/social commentators, have been arrested and detained for varying periods without charge or in violation of valid court orders.
__The greatest freedoms we achieved as a nation by being free is the freedom of association, worship, speech and even freedom after speech which had become more visible from 1999-2016under the PDP years are freedoms that is now threatened by the tyrannic nature of this regime. At 56, Nigerians now live in fear of expression.
__On the economic front, the incoherent policies of the Buhari administration have led us into the worst economic crises in 29 years. Consecutive quarters of negative GDP growth confirm that the country is officially in a recession yet no one can point to a coherent, cogent plan to overcome this situation.
__An unprecedented 4.58million people have lost their jobs since the inception of this administration, the prices of food have risen astronomically to the point where people can no longer afford food and resort to stealing pots of food from the fire, inflation has hit 17.5% which has in the process caused prices of other goods & services to go through the roof and so on.The absolutely sham boric monetary policies of this administration have ensured that the Naira is thus far the worst performing currency globally after the Vietnamese Bolivar and the Suriname Dollar.
__As the time of writing this, the exchange rate is $1 – N490, £1 – N600 and €1 – N520.
__ While we can appreciate sustained progress in the fight against boko haram, that war is not yet over. Only 3 days ago, BBC reported the capture of several towns by the terrorist group and the hoisting of their flags in those areas.
__In the North Central region of Nigeria, and parts of Kaduna, the menace of herdsmen hasgone on unchecked. It is on record that herdsmen have killed more than 1000 peoplein 2016 alone, making them the fourth most deadly terrorist group in the world. This administration has barely even acknowledged this ongoing genocide against the peoples of North Central Nigeria.
__Kidnappings have become brazen and frequent, cultism is rising unchecked in parts of the country and so on. At the time of writing this, reports had just broken out about the kidnap of the wife of the CBN governor.
__All these indices, paint a picture of the grim reality into which the Buhari administration has forced on Nigeria. These facts paint a picture of the reasons why Nigerians find it difficult to celebrate on Independence Day.
__Perhaps most painful part of the current socio-political and economic reality that has Nigeria suffers on her 56birthday is that in the midst of all this – 17% inflation, -2%GDP growth, more than 4millions jobs lost; PresidentBuhari yesterday launched his own photo-book at the State House, Aso Rock.
__One is hard pressed to escape the conclusion that President Buhari is more concerned about his image than the severe havoc his policies are wrecking on the nation.
__Another thing that threatens our progress as a nation is the reversing of all electoral gains we have made from 1999-2015. Elections are now either inconclusive or outrightly rigged as it was in the case of #EdoDecides where fake results was announced by INEC and the APC candidate Godwin Obaseki declared as winner.
__But in all this, we must celebrate the indomitable Nigerian spirit. We must celebrate our ability to preserve in spite of damning odds. We must celebrate our ability to thrive in spite of the government's determination to be a stumbling block in our path. We must celebrate because as Nigerians, we share a collective ability to bend but not break in the face of horrible circumstances.
__So even while we take time toreflect on the horrible circumstances in which we are being forced to live, we must take time to celebrate the knowledge that because we are Nigerians – WE SHALL OVERCOME.
Please Drop Your Comment Below
Thank's for reading my article
Oct 1st 2016 Worst Independence Day since 1960 – Adeyanju
Created at 2016-10-01 09:28:07
Tags:
news

0
Rate up

Star
Share: